HOME | Goodfellow | Warren | Warne | Tyrie | Craig | Bagley | Fradd | Crews | Hale | Murray | Horton | Evans | Parrish | Perkins | Merrill | Wolpert | Austin | Harris | William Philip Saunders | John Charles Saunders | Elizabeth Catherine Saunders | Herbert Frank Saunders | Eleanor Susan Saunders | Walter Crews Saunders |
In the 1841 Census covering St. Breock, the wife of John Saunders, a carpenter, eldest son of John and Elizabeth (Warne) Saunders and elder brother of William Saunders (B 1805), is shown as Susan, a 50 year old, not born in the county - i.e. Cornwall.
In 1851, his wife is now Ann, a 63-year-old born in Halstead, Essex. A search of the 1861 Census shows her as Susan, 75 years old but still born in Halstead, Essex, wife of the same John Saunders, now 65 years old. Ignoring the discrepancy in the ages, are they one and the same? Could she have been Susan Ann and an error made by the enumerators? Surely she must be the same woman but another item to check!
The 1851 Census was the first comprehensive census undertaken. For the first time the place of birth was shown together with the relationship of the people in the family groupings to the head of the family and the actual ages - if known or correctly revealed. Previously, in 1841, the census only showed if an individual was born in or out of the county and no details of relationships.
Another interesting point is how did John, the carpenter, come to meet and marry Susan / Ann, who says that she was born in Halstead, Essex, some 45 miles north east of central London? Could he have come up to London before, with or after his youngest brother William who arrived there sometime prior his marriage to Susan Tyrie in October 1829? Had Susan/Ann - and family - moved into London to find work and they had met there? It is doubtful - but not impossible - that John had gone to Halstead or that Susan/Ann had travelled down to Wadebridge some 300 miles or more.
Part of this riddle has now been solved, as it appears that John married Susannah BAGLEY, a widow, on the 17th August 1828 at St. Leonardís Church, Shoreditch, London. Susannah; Susan and Ann are all the same person and John must have gone to London, possibly with his younger brother, William, who also married in London some fourteen months after John. It is also quite possible that the two brothers were working as carpenters in London but this would be rather difficult to confirm.
By her first marriage Susannah BAGLEY had at least two sons, John BAGLEY, and Joseph William BAGLEY.
John had a daughter, Elizabeth, who was married to Charles James Stevens.
Joseph William of Plymouth, who had died before 1874, had two daughters, names unknown.
At some point after their marriage John and Susannah must have decided to leave the London as they were back in St. Breock by the 1841 census.
In St. Breock churchyard there is a flat gravestone with the following inscription;-
In
Memory
of
JOHN SAUNDERS
of Whiterock in this Parish
who departed this life April 4 1874
Aged 79 years
Also
in Memory of
SUSAN
Wife of the above
who departed this life June 2 1866
Aged 81 years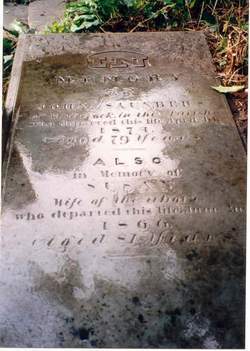 John & Susan Saunders Gravestone in St. Breock Churchyard