William & Elizabeth (Crews) Saunders
second daughter was
Eleanor Susannah (Susan) Saunders
, born on the 14th October 1862 at 113 Euston Road, London.
In later life she told her niece that she had been sent to a convent in France when she was a teenager as her parents did not approve of the man she wanted to marry.
In July 1882 she was one of the witnesses at wedding of her brother John Charles Saunders to Clara Ann Down.
She emigrated to America in 1883 when she was 21 and went to Rochester, N.Y.
Eleanor or "Nellie", as she was widely known, first appears in the "Rochester City Directory" in 1886 and again at various times up to 1930 at which time she is shown as 'Removed to Sodus'. (Sodus is in Wayne County some 20 miles east of Rochester.)
In the 1894 directory she is shown as a nurse at St. Mary's Hospital, Rochester but boarded at 371 Troup Street. She is not shown in the 1895 edition.
The 1920 Rochester Census shows Nellie (aged 45 although she is actually 58 by this time) living as a boarder with her uncle Phillip Robert Saunders and his two daughters, Alice (33) and Elizabeth (30) at 373 Troup Street. The Census states also that she arrived in U.S.A. in 1887 and became a U.S.Citizen in 1917. There seems to be some discrepancy about her date of arrival in the U.S.A. as she is definitely listed in the 1886 'Rochester City Directory' as a clerk lodging at 20 Martin Street. There is further confusion about the date as she told her niece, as mentioned earlier, that she had emigrated in 1883 when she was 21. She also told her niece that she never got on with her mother, who was very strict.
She trained as a nurse and was said to be in one of the first graduating classes in Rochester. She made a lifelong friend in Daisy Case, who was one of her fellow trainees.
Her niece relates that Nellie is said by Daisy Case to have been married for a very short time before she and her husband separated and the marriage annulled. Her husband's name was unknown.
According to her niece she made several trips back to England, the first of these coincided with the death of a John Mace, the man she wanted to marry. Apparently, she never really got over his death.
However, in January 2003, the City of Rochester put their Marriage Records Index from 1878 to 1932 on to the Internet and the following details were found.
1914 – John A. Mace to Eleanor G. Saunders - Volume 3, Licence No; 14310
A copy of the certificate was obtained and showed that the marriage took place in Rochester on the 8th January 1914. It also shows that John A. Mace was a 50 year-old 'merchant' of Lockport, N.Y. the son of Wulf and Lottie Mace (nee Cohen) all three having been born in Germany. It was his second marriage. Eleanor declared her age as 40 although she was actually 52! She was described as a nurse living at 32 George Street.
The entries in the 'Rochester City Directory' over the years show a different story.
Up to about 1909 she is described originally as a 'clerk' then subsequently as a nurse. In 1910 she is a partner in a hairdressing business called 'Hosking and Saunders' in 21 Rochester Savings Bank Buildings and then in 1914 at 614 Mercantile Bldg., and living at 32 George St. She worked as a hairdresser along with Millicent M. Hosking, hairdresser, (who was one of the two witnesses at her wedding) and Isabelle H. Hosking, a manicurist, both living at 25 Herkimer St. In 1915 and 1916, Eleanor is living at 34 Savannah Street. The 1917 directory makes no mention of Eleanor but she is back in 1918-19 living at 34 Savannah St. and working as a hairdresser and does so until at least 1924.
What happened to her husband, John, is a mystery. Records in Rochester show that they were divorced in 1914 but, due to a 100 year rule, full details of the divorce will not be available until 2014. From all the evidence to date Nellie never appears to have used her married name.( Please see Additional Information at foot of page.)
According to her niece, the late Carmen Saunders Sawyer, Nellie obtained some land at Sodus Point, Wayne County. N.Y. which overlooks Lake Ontario to the east of Rochester. She had a small "weekend" cottage built there but this was eventually burnt down. She then had a more substantial home built and lived there after her retirement.
In her later years Mabel Webster, an old friend from her Rochester days, befriended Eleanor. She is the informant shown on Eleanor's Death Certificate and one of the beneficiaries in her will. The Certificate describes Eleanor as a 'Registered Nurse'.
Eleanor died on Saturday, December 29th 1956 and the certificate states that she was to be buried or cremated in Mount Hope Cemetery, Rochester, on the 2nd January. The cemetery has confirmed that she was cremated and her ashes sent to the funeral directors who state that if ashes are not claimed within a few years then they are returned to the cemetery who arrange for them to be scattered. This is most probably what happened in this instance as there is no record of her burial in Mount Hope.
The local newspaper has the following on their front page; -
"
The Record"
Sodus, Wayne County, N.Y.
Thursday, January 3, 1957
Miss Eleanor Saunders passes at Hospital
--------------------------------------------------
Miss Eleanor Saunders of Sodus Bay Heights passed away Saturday at Myers Community Hospital at the age of 94 years. Born in England in 1862, she came to this country as a young girl and became a nurse.
She had been a communicant of St.Paul's Episcopal Church in Rochester but transferred to Christ Church at Sodus Point when she made her home in this township.
Funeral services were held at a Rochester Funeral Home Tuesday afternoon and interment was made at the convenience of the family. Miss Saunders is survived only by nieces and nephews.
There is also a further report in a Texas newspaper.
Angeloan's Aunt Dies in New York
------------------------------------------
Funeral services for Mrs. Eleanor S. Saunders, aunt of Mrs. J. Sheperd Robberson of 201 Bird St, were held today in Rochester, N.Y. Mrs. Saunders died Saturday. Other survivors include a brother, Walter Saunders of London, England; two nieces, Mrs. Ben F. Sawyer, formerly of San Angelo and now of Houston, and Mrs. Bess Harris of Rochester, N.Y.; three nephews, Charles Saunders of Albany, N.Y., Louis Herbert Saunders of LaMarque and Jack F. Saunders of Houston, and several other nieces and nephews in London and New York.
The subsequent search by Attorneys, Chamberlain, D'Amanda, Bauman & Brundage of Rochester, N.Y., for possible interested parties in her will caused great excitement in the Saunders family in England.
However, in the terms of her will, the beneficiaries were the Christ Episcopal Church of Sodus Point; the Ladies Auxiliary of the church and her friend, Mabel Webster.
The small white painted church still stands in the centre of Sodus Point.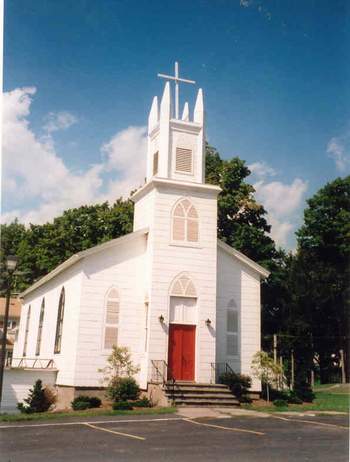 Christ Episcopal Church of Sodus Point in 1999
Eleanor told her niece that she changed her middle name from Susannah - she was actually christened Susan - to Gertrude because she thought it looked better! Her elder sister's daughter was Gertrude but whether this had any significance in her decision is not known.
Additional information
John Mace
The name first appears in the New York State Census of 1892 for Royalton, Niagara County which shows John Mace, aged 32, born in Russia, a cigar maunfacturer/merchant living with his wife, Flora, aged 54, born in New York State.
In the Federal census of 1900, they are at 61, Caledonia Street, Lockport, Niagara County. The census also shows that John, a provision merchant, was born in Russia in February 1860; had been in the U.S. for 25 years and married for 15 years. Flora was born in New York State in February 1838 and had no children.
By the next New York State Census of 1905 they are at 74, Main Street, Lockport with John (45) shown as a 'Grocer' and Flora (67), a 'Housewife'.
The Lockport City Directories from 1905 onwards show him as John A. Mace - 'Ice cream, confectionery and cigars' - living at various addresses in Lockport over the period 1905 to 1939. From 1932 onwards the directories now show 'distributor of Rich's Ice cream and Agate Ice Cream and his wife, Eva C, is shown at their home address.
There is no information at the moment when his first wife, Flora died or when he married Eva.
The Niagara Falls Gazette of the 13th March,1939 states that John A. Mace, aged 77, the Lockport agent for the Rich and Agate Ice Cream Company, died in Lockport City Hospital as a result of complications. He was shown as being a native of Europe. He was survived by his wife, Eva Simons Mace; one son John A. Mace, Jr., Lockport; two brothers Mark and Louis Mace, Greensburg, Pa. and three sisters, Mrs. Minnie Goodman and Mrs. Fannis Pearlman, R.I. and Mrs. Molly Ladd of Brooklyn.
This has to be the same John A. Mace, the 50 year old Lockport merchant, who married Eleanor Saunders in 1914. What was the dramatic reason for the divorce/annulment in the same year? Was Eva Simons Mace his third wife.? Was she Eva C. as suggested by the directories? Was their son John A. or John L. as shown in numerous later local newspaper reports? Many unanswered questions.