HOME | Goodfellow | Warren | Warne | Tyrie | Craig | Bagley | Fradd | Crews | Hale | Murray | Horton | Evans | Parrish | Perkins | Merrill | Wolpert | Austin | Harris | William Philip Saunders | John Charles Saunders | Elizabeth Catherine Saunders | Herbert Frank Saunders | Eleanor Susan Saunders | Walter Crews Saunders |
Nancy Saunders, born about Christmas time 1796, was the eldest daughter of John and Elizabeth (Warne) Saunders. She, with her three brothers and sister, were all born in St.Breock, Wadebridge, Cornwall.
Nancy, a milliner, married Philip CRAIG, a gardener, in St. Breock on the 9th November 1826. It seems that she had a shop possibly in Molesworth Street, Wadebridge at this time.
There is an advertisement in Kelly's Directory of 1897 for "Craig and Co (First Established by the Late Mrs. Craig 1814) Wadebridge" "General Drapers & Milliners, Dress & Mantle Makers"
Philip was the son of John and Elizabeth CRAIG and was born in Sithney, Cornwall about February 1798. He was the youngest of a family of seven children - two boys and five girls. Sithney lies about 3 miles north west of Helston.
John and Elizabeth CRAIG appear to have moved to Wadebridge at some time and subsequently died there. In St.Breock churchyard there is a gravestone which shows;
Sacred to the Memory of John Craig,
late of Wadebridge, Gardener,
who died on the 9th day of December 1840
aged LXXV years.
also in Memory of Betty,
wife of the above
who departed this life October 22nd 1820
aged LI years.
*******************
Philip and Nancy CRAIG had five children;
1. John Saunders CRAIG born about 1827
2. William Henry CRAIG born about 1830
3. Elizabeth CRAIG born about 1832
4. Charles Edward CRAIG born about 1833
5. Eveline CRAIG born about December 1841
*********************
1. John Saunders CRAIG, a carpenter, married Anne (Annie) Pike, said to be from Bath, in East London about September 1859. In 1871 they were living at 25 South Kennington Lane, Lambeth with their only child, Elizabeth, born in 1861.
The 1881 census shows the three of them living at 1, Gloucester Villas, Danby Street, Camberwell, London.
In about December 1885, Elizabeth married William Cox, a 35 year old Carpenter. They eventually had three children - Horace Percival (1886); Beatrice May (1888) and Julian Ernest (1890).
Sometime in this period Anne Craig died and by 1891, John was living with his daughter and son-in-law at 39, Worlingham Road, Camberwell. The 1892 Post Office Commercial Directory shows that he was a 'Packing Case Maker' carrying on business at 45 Great Tower Street and 6 Tower Dock.
By 1900 the business was still at 6, Tower Dock and also 95, Minories and appears to have been at this last address up to about 1918. The business was no longer listed in the 1919 Directory.
In 1911 John was still living with his daughter, son-in-law and their three children at 42 Rosendale Road, West Dulwich. By this time William was now shown as a 'Carpenter and Case Maker' and no doubt working for and with his father-in-law.
John died in about March 1924 at the ripe old age of 96.
..................
2. William Henry CRAIG, a Draper in Molesworth Street, Wadebridge, firstly married Emma ENGLISH (Born 1836 in Exeter, Devon the fourth child of George English, a fly proprietor, and wife, Jane) in the Parish Church, St. Lawrence, Exeter on the 27th September, 1858. They had one daughter, Ethel English CRAIG, born in 1872.
Emma died in 1879 and William Henry CRAIG married a second time in 1881 to Hannah CRAZE, the eldest child of James Craze, a copper miner, and his wife, Ann), born in Callington, Cornwall.
Hannah had previously been married in 1871 to William Pedrick who had died in 1878. Hannah and William Pedrick had one son, William, born in Exeter in about March 1875.
Hannah and William Craig had one son, Cecil CRAIG, born in 1882. (see below)
William became the first chairman of the Wadebridge Urban District Council when it was set up in 1898.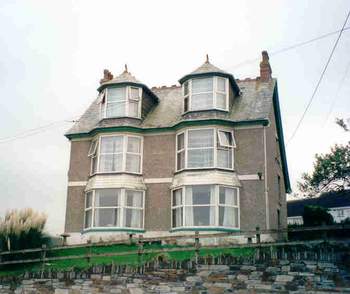 'Craigmoor' -William Craig's home in Wadebridge
William died in Wadebridge on the 17th August 1911 aged 81 and his wife, Hannah, on the 3rd June 1930 aged 79.
..................
3. Elizabeth CRAIG married John Alfred Peregrin PHILLIPS in St. Breock in 1856.
They had one son, Alfred PHILLIPS, born in Hackney, London in 1857. The 1861 Census shows him as a 3 year old living with his grandparents, Philip and Nancy Craig, in Wadebridge. By 1881 he was 23 still living with his grandparents and described as a 'Draper's Assistant' no doubt working for his uncle, William.
..................
4. Charles Edward CRAIG died in 1842 aged about 9 years.
..................
5. Eveline CRAIG died in 1845 aged 4 years
...................
Nancy Craig died in St. Breock on the 6th April 1884 and Philip Craig on the 13th August 1886.
...................
Cecil Craig married Elfreida Gwendoline Johns in Plymouth, Devon in about August 1911. They had a son, Donald Craig, who was born in Cornwall on the 24th May 1913.
Donald Craig married Emily Yates (or Vevers) in about September 1935. They had three daughters.
It appears that Donald was in the army prior to World War II. About 1935 he was with the British Army in Palestine. At the start of the war he was in the Royal Engineers and later attached to the Commandos.
Some of his wartime exploits are described in the book 'Above Us The Waves - The Story of Midget Submarines and Human Torpedoes' written by C.E.T. Warren and James Benson and first published in 1953. This book told of the unsuccessful attempt to sink the German Pocket Battleship "Tirpitz" in Trondhjemsfjord, Norway in November 1942. It is a fascinating and hair raising story.
According to one of his daughters, subsequently, during 1943, he was 'Mentioned in Despatches for Distinguished Service'. Apparently he transferred to the Royal Navy and reached the rank of Lt. Commander by the end of the war.
Donald and his wife were divorced in the early 1950's. He was married for a second time to Helen Mary Hitchmen a few years later in 1956. Donald died in Exeter in 1979 and Helen in 1981.
...............................................................
Additional information
(1) Emma English was the daughter of George and Thomazin English and born in the St. Lawrence district of Exeter on the 1st September 1836.
She died in St. Breock on the 1st August 1879.
(2)Ethel English Craig was born in St. Breock about December 1872. She married Charles Edmund Hensley Hawken in about June 1900. They had one daughter, Joyce English Hawken born in 1904.
(3) Hannah Craze was the daughter of George and Ann Craze and born in Callington, Cornwall in about June 1851.
Her first marriage was to William Pedrick in about December 1871.
They had one son, William, born about March 1875. In the 1891 Census he is shown as a 16 year old scholar at Craigmore College, Westbury, Bristol.
Her husband, William, died in Exeter in about September 1878, aged 30.