....................
Frank had been living in Parma Corners and on December 6th, 1861 he enlisted into Company I, of the 13th Regiment, New York Infantry with Regimental Number 1056851. He was captured by the Confederates at Manassas, Virginia on the 30th August 1862.
This engagement was also known as 'The Second Battle of Bull Run'.
There is a description of the action at that time in the 'Encarta Encyclopedia'
Second Battle of Bull Run
After the failure of the Peninsular campaign, Lincoln named Henry W. Halleck general-in-chief of the Union armies. The Army of Virginia was organized in June 1862. General John Pope, a former subordinate of Halleck's, was put in command of the new army. Halleck ordered McClellan to bring his men back to Washington, where he was to join with the forces under Pope.
Lee concentrated on preventing this junction of Union armies. On August 9, 1862, Jackson attacked Pope's advance units at Cedar Mountain, near Culpeper, Virginia, and defeated them. Pope withdrew to the north side of the Rappahannock River and waited for McClellan. Jackson, with 23,000 men, swung in a wide circle around Pope's army. On August 26 he swooped down on the federal base at Manassas Junction, captured or destroyed supplies, and then made a stand at Manassas, the site of the First Battle of Bull Run.
On August 29, Pope with 62,000 men attacked Jackson. Jackson withstood the offensive, which was not well coordinated. Nevertheless, Pope believed that he had defeated Jackson and sent a wire to that effect to Washington. The following day, James Longstreet and Lee moved up to reinforce Jackson. Pope's army was shattered by Longstreet's artillery and infantry and fled in disorder. Lee pursued and tried to cut off Pope's retreat the next day at Chantilly.
Pope, thoroughly and humiliatingly beaten, limped back to Washington. He had lost about 14,500 men to Lee's 9200. Pope's force was merged with the Army of the Potomac, and McClellan again was put in command of the entire force.
Frank was taken to Centreville or Falls Church and paroled there on the 4th September 1862. Military records show that he was 'returned to Co. from Camp Parole on Dec. 17. 1862' On the 10th April 1863 at a 'Special Muster Roll' he is shown as 'on Division Guard'. He was eventually discharged on the 11th May 1863
"Rochester's Part in the Civil War" by Blake McKelvey in the "Rochester History" of January 1961 contains the following about Frank's Regiment, the 13th New York Infantry.
The old 13th and other Rochester units tasted fire in the Seven Days' battles, the Second Battle of Bull Run, the first debacle at Fredericksburg, and lesser engagements in the war's second year. Despite the early blot on its record, the 13th completed two full years of heroic service, and on May 2, 1863, Rochester turned out to cheer as 190 of the regiment's original members marched home again. Many of the absent had reenlisted or had been transferred to other units, but at least 85 had paid the supreme sacrifice, while 103 were never accurately accounted for. The 13th had been released just prior to the bloody battle at Chancellorsville in which other Rochester units were heavily engaged. Bulletins from the battles in which local men were known to be involved always brought crowds into the Arcade to hear the latest telegraph reports. Pope's campaign on the Rappahannock in the latter part of August 1862, the battle of Antietam a month later, and Fredericksburg that December, each cost the city more than fifty lives, not counting missing or wounded.
Allotments from Companies A and I, 13th Regiment.
The following is a list of the members of Companies A and I, 13th Regi- ment, who signed allotment rolls directing portions of their pay to be transmitted to Francis Gorton, of the Flour City Bank for distribution. The table also contains the name of the party to whom the money was assigned, the address, and the amount. The money will be paid at the Flour City Bank. Those who do not call in person for their allotments should be careful to attach a two cent stamp to their orders, as they cannot be paid without
COMPANY I
No. Name Amount to be Reserved Assignees Name Assignees Address
23. F. Saunders 77.00 W. Saunders Parma Cor(ners).
For more information about the 13th New York Volunteers during the Civil War click here
....................
In the
"Gazetteer and Business Directory of Monroe County, N.Y. for 1869/70"
the section covering Parma has the following entry;
Saunders, Frank, (Parma) lot 8. on the Gore, carpenter and joiner and farmer 108 ½ (acres).
The 1900 Census describes Frank as a 'Millwright unemployed for 6 months'
In the 1926 edition of 'The Rochester City Directory' Frank is listed as being one of the those in charge of funerals of Civil War veterans. It is not clear exactly what this duty entailed. He, himself, died three years later on the 19th February 1929 in Parma Corners.
Rochester, Monroe, N. Y. Democrat & Chronicle Feb. 21, 1929
LAST RITES FRIDAY FOR PARMA WAR VETERAN
Spencerport, Feb. 20 - Frank Saunders, 90, Civil War veteran and one of the oldest residents of the Town of Parma, died at his home at Parma Corners yesterday, after an illness of several months.
Mr. Saunders was born in London, England, May 21, 1839 son of the late William and Susan Tyre Saunders. He came to the United States, 79 years ago and had lived in Parma for 71 years. In 1861 he enlisted in Company I., 13th New York Volunteer Infantry, and served throughout the war.
The flag to be draped on his casket is the flag that was presented to the 13th New York Volunteers by the women at Parma Corners.
Mr. Saunders was one of the oldest members of Parma Lodge, I. O. O. F. The Parma Baptist Church and one of five surviving members of John H. Martindale Post, G. A. R., of Spencerport.
He is survived by his widow, Julia Horton Saunders; one son, Charles H. Saunders of Rochester; one daughter, Mrs. Martha S. Austin of Parma Corners, and five grandchildren; one brother, Philip Saunders of Rochester. Services will be held from the house (Friday?) Afternoon at? O'clock, Rev. A. F. Grosbect, of the Parma Baptist Church, officiating. I. O. O. F. services will be conducted at the home. Burial in Riverside Cemetery, Rochester.
....................
Julia died in 1935 and the following notice appeared in a local newspaper; -
Saunders; - Entered into rest at her home in Parma Corners, Sunday evening, January 27, 1935, Julia Horton Saunders, in her 89th year, widow of Frank Saunders. She leaves one son Charles H. Saunders of Rochester and Mrs. Martha Saunders Austin of Parma Corners; five grandchildren and seven great grandchildren.
Services at the home Wednesday, January 30 at 2.30pm. Rev. Charles Clare Blauvelt officiating. Interment in Riverside Cemetery.
....................
By 1885 Frank and Julia Saunders son, Charles Herbert Saunders, was a 19 year old working as a clerk in Rochester. On the 13th November 1890 he married Elizabeth A. Chamberlain in Rochester. She was shown in the Marriage Register as being 24 years old at the time and was the daughter of John and Sarah Chamberlain (nee Gregory) and had been born about September 1866 in the Sheffield area of Yorkshire, England.
On the 23rd May 1893, Elizabeth A. Saunders, of Jones Avenue, died and was buried in the family plot in Mount Hope Cemetery, Rochester on the 26th May. The following announcement appeared in 'The Union and Advertiser' of Wednesday 24th May 1893.
'Mrs. Libbie Chamberlain Saunders, wife of Charles H. Saunders, died yesterday at 37 Jones Avenue, aged 27 years'
There appears to some confusion here as to her correct name and age. According to Mount Hope Cemetery records she was Elizabeth A. Saunders and was aged 20 years and 9 months.
Charles Herbert subsequently married again on the 25th June 1896. His second wife was Franc Delano BAKER, born 5th January 1870 in Middleport, Niagara County, N.Y., the daughter of Andrew Jackson Baker and Orrill S. Smith.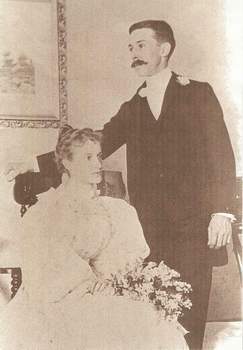 Charles & Franc Saunders, Wedding Day, 1896
Charles and Franc had five children
1. Donald Winthrop Saunders - born 19th November 1897 who married Helen L. RODENBECK on the 29th September 1923. They had one daughter, Suzanne Wickham Saunders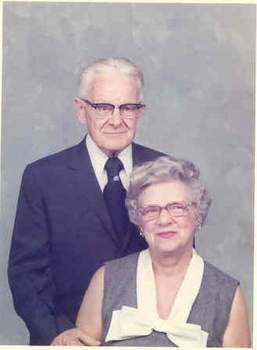 Donald & Helen Saunders - Golden Wedding 1973
2.
Charles H. Saunders
- born about November 1899 and died the 30th April 1900
3. Frank Alden Saunders - born the 28th February 1904 who married Katharine MONAGHAN in about June 1941. They had no children.
4. Orril Baker Saunders, - born the 6th March 1907 who married Alfred Nicholson YOLE (see note below) on the 29th December 1928. They had four children
Orrill Elizabeth Yole
Barbara Ann Yole
Alfred Nicholson Yole
Charles Saunders Yole
5. Elizabeth Saunders - born the 8th November 1909. She married Dewitt Morgan Richards in 1932 and they had one daughter, Nancy. After being divorced, Elizabeth married John Alton Fromart in 1942. They had a daughter, Gretchen.
Additional Information
Hattie Saunders - The only information on Hattie is in the 1892 New York State Census where she is shown as a 19 year old living at home with her father and mother in Parma. She does not appear in any other records to date.
Alfred Nicholson Yole - An item in the Year Book - Class of January, 1918, East High School, Rochester, N.Y.
ALFRED N. YOLE, 30 Shepard Street - Francis Parker School
Alfred Yole joined the Machine Gun Company of the 3rd New York Infantry and was soon promoted to the rank of bugler. The class joins heartily in sending best wishes for the success of all their(a fellow pupil) undertakings and may they both have a hand in chasing the Kaiser down "Unter den Linden"