Lavinia Elizabeth Gertrude Rouse married
Louis Mann
, aged 30, described as an Insurance Official, at St.Augustine's Church, Bradford on the 31st March 1934. At that time her father, Harold, was described as a Civil Servant.
Harold Hardy Rouse died in St. Luke's Hospital, Bradford on the 15th March 1949. His home was 5 Leafield Crescent, Eccleshill, Bradford. His widow, Lavinia Emma Rouse, died less than a year later on the 2nd February 1950 at 25 St. Chads View, Headingly, Leeds.
...................
Harold and Elizabeth's next three children all died young - two as babies.
Ethel Maud Elizabeth Susan Rouse was born on the 15th September 1880 but only lived for a month and died on the 16th October 1880.
Reginald Rouse was born on the 31st October 1881 but died on the 2nd February 1900, aged 18, and was buried in Highgate Cemetery on the 8th February.
Stanley Rouse was born on the 12th July 1883 but died three months later on the 16th October 1883.
...................
Harold and Elizabeth Catherine then had a daughter, Gertrude Rouse, born on the 11th December 1885.
...................
The fourth son, Herbert Rouse, was born on the 18th October 1887. He was a Bombardier with the Royal Horse Artillery and was killed on the 17th March 1917. He is buried in the Varennes Military Cemetery, which lies 11 kms from Albert and 18 kms for Amiens, France.
...................
In 1891 the family were living at No. 1, Gertrude Villas, Cam Hall Road, Wanstead. Within the year they had moved again to Cleveland Terrace, Ranelagh Road, Wanstead, West Ham where their fifth and last child, Lionel Rouse, was born on the 29th February 1892 . Lionel joined the Royal Navy in 1909 eventually becoming a Master at Arms in his last eight years of service.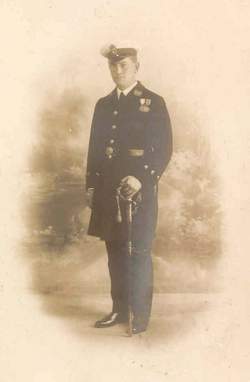 Lionel Rouse
1892 - 1952
He left the Royal Navy in 1933 and started working in the Houses of Parliament until his death in the North Middlesex Hospital on the 12th October 1952 at the age of 60. In his death certificate his occupation was described as "Messenger - House of Commons".
It would appear that he never married.
...................
Harold Cotton Rouse died on the 3rd May 1894, aged 41, at 3, Sussex Villas, Harrow Road, Leytonstone and was buried in Highgate Cemetery on the 12th May.
...................
By 1901 Elizabeth, with her children Gertrude, Herbert and Lionel, was living in 5 Colebrook Row, Islington which appears to have been divided into apartments and bed sits as there was another family and several other 'boarders' living there.
| | |
| --- | --- |
| | |
| No. 5, Colebrooke Row, Islington | No. 3, Alwyne Place, Islington |
On the 26th December 1905, just over ten years after Harold died, his widow, Elizabeth, now living at 3, Alwyne Place, Islington, where her widowed mother had died on the 13th May 1905, married Robert Henry Cody, a 38 year old chef, who had been her lodger.
Robert Cody died in about May 1929, aged 60.
Elizabeth Catherine died in the North Middlesex County Hospital on the 13th September 1938. aged 81 and was buried in Highgate Cemetery on the 15th September. She had been living with her son, Lionel, at 285, Galliard Road, Edmonton, North London.
...................
| | |
| --- | --- |
| | |
| Gertrude's Wedding, 17th September 1904 | Gertrude |
In the meantime, Gertrude, at the age of 18, married James William Beattie Wyness, a 28-year-old Watch Maker born in Wilton, Roxburghshire, at St. Stephen's Church, Canonbury, Islington on the 17th September 1904. This was the same church that her mother's second marriage was to take place some fifteen months later.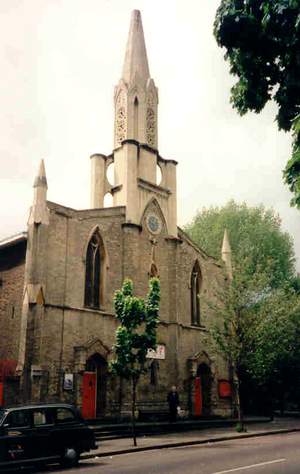 St. Stephen's, Canonbury
When she died on the 12th February 1970, Gertrude and her husband, James, were living in Stanmore. James died just over three years later on the 27th April 1973, aged 96, at the home of Hermione Isabel Wyness, their second daughter.
Gertrude and James had four children.
1. The first was Gertrude Mary, born on the 15th July 1905. She married Jan Stephanus de Villiers in 1934. They lived in South Africa were Jan died on the 5th February 1984, aged 80 and Gertrude on the 9th July 1996. They had no children.
...................
2. Nearly six years later on the 17th February 1911 a son, Ian James Wyness, was born. He is shown as the informant of his mother's death on the 12th February 1970. He married Marjorie Patricia Collins, born in Brighton on the 23rd August 1913, on the 22nd June 1940 in All Hallows Church, Tottenham, London.
3. Hermione was born on the 5th September 1909 and died in Eastbourne on the 12th November 1993. She never married.
4. Gertrude and James also had a son, Keith Gordon, their fourth child, who was born on the 6th April 1926.