HOME | Goodfellow | Warren | Warne | Tyrie | Craig | Bagley | Fradd | Crews | Murray | Hale | Horton | Evans | Parrish | Perkins | Merrill | Wolpert | Austin | Harris | William Philip Saunders | John Charles Saunders | Elizabeth Catherine Saunders | Herbert Frank Saunders | Eleanor Susan Saunders | Walter Crews Saunders |
On the 27th July 1899, the following announcement appeared in the "Rochester Democrat and Chronicle" -
Married
Saunders - Evans
------------------------
In this city, Tuesday, July 25th 1899 at the residence of the bride's sister, Mrs. Henry (Virginia) Abbs, 169 Flint Street, by the Rev. Amos Skeel, Mary Elizabeth Evans and Herbert Saunders. At home after August 15th at 371 Troup Street.
Herbert SAUNDERS was the fifth child of William and Susan (Tyrie) Saunders. He was born on the 17th August 1840 at 45 Payne Street, Islington, London.
During the Civil War, Herbert, not previously mentioned in Rochester, served in the Union Navy. The National Archives and Records Administration in Washington, D.C. have supplied the following information.
Herbert enlisted on the 19th September 1863 in Chicago, Ill., for a term of one year as an Ordinary Seaman on General duties. He was shown as being a carpenter living in New York State; born in London, England and aged 23 years. His physical description showed that he had grey eyes; brown hair; fair complexion; 5 ft 3 ins tall and that no permanent marks or scars noted.
He re-enlisted a year later on board the U.S.S. " Peosta" at Paducah, Kentucky for another year. He had received a bounty of $100 and his previous naval service was shown as one year.
On the Muster Rolls for the U.S.S."Peosta" he was shown as a Carpenter's Mate. He was discharged on the 19th September 1865.
There is no explanation as to why he went to Chicago to enlist but possibly that was a requirement to join the Union Navy at that time.
The "American Naval Fighting Ships" of 1970 gives the following description;-
"Peosta"
<![if !supportEmptyParas]> <![endif]>
"A former name retained".
Peosta, a side-wheeled wooden gunboat, was purchased at Dubuque, Iowa 13 June 1863; fitted out at Cairo, Ill., and commissioned 2 October 1863, Lt. Thomas E. Smith in command.
Assigned to Naval forces on the Tennessee River, Peosta departed Cairo 28 October and arrived at Paducah, Kentucky, 3 November. Remaining on the Tennessee throughout the Civil War, she cruised between Paducah and Eastport, Miss., to protect Union shipping and support Army activities. In the spring of 1864 she assisted in halting a Confederate land and river offensive against Paducah as they moved through Union lines to repossess defences along the river. Remaining on the Tennessee into June 1865 she arrived at Mond City, Ill., on the 5th for inactivation. On 7 August 1865 she decommissioned and 10 days later was sold to John W. Waggoner".
Could one of the figures seen on the deck be Herbert Saunders?
To see more of the exploits of the U.S.S. Peosta during the Civil War click here
..........................................
According to the 1880 Census Mary Elizabeth was a 16 year old living with her sister and brother-in-law and working in a Perfume Factory. Her birthplace is shown as Pennsylvania.
However, the 1900 Census states that Mary Elizabeth had been born in May 1859 in West Virginia. She was said to be the daughter of Alfred EVANS and Mary Anderson EVANS and born in Remington, Beaver County, Pennsylvania. In subsequent census her birthplace was shown as New York State so there appears to be a great deal of confusion on this point.
On the 21st September 1926, Herbert died, aged 86, and was buried in the family plot in Mount Hope Cemetery on the 24th September.
Rochester Times Union, Wednesday Evening - September 22nd 1926
'Daily Death Roll'
---------------------
Herbert T. Saunders

Herbert T.Saunders, 86, Civil War veteran died yesterday at his home, 371 Troup Street. He was born in London and came to Rochester at the age of 10. In 1862 he enlisted into the navy, serving throughout the war. He was a life member of Rochester Lodge, 660, F & A.M. He is survived by his widow, Mary E. Saunders; two brothers, Frank Saunders of Parma Corners and Philip Saunders of Rochester and a number of nieces and nephews. Funeral services will be held Friday afternoon at 2.30 o'clock at the home.
<![if !supportEmptyParas]> <![endif]>
<![if !supportEmptyParas]> <![endif]>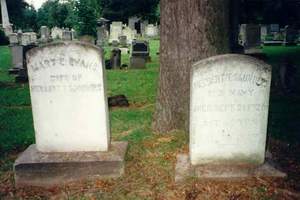 Mary & Herbert Saunders, Mount Hope Cemetery, Rochester, N.Y.
<![if !supportEmptyParas]> <![endif]>
<![if !supportEmptyParas]> <![endif]>
Apart from a granite obelisk bearing only the name of Saunders, his headstone is the only Saunders one actually on the plot and bears the following inscription; -
HERBERT T. SAUNDERS
U.S.NAVY
DIED SEPT. 21. 1926
AGE 86 YRS
It is interesting to speculate about the origin of the "T" in his name. His birth was just registered as Herbert Saunders as it was in other official documents but possibly in later life he chose to add a little embellishment!
................
Mary was very involved with 'Patriotic Organisations'.  There are several references in the Rochester newspapers of the 1930's of her connections with the Rochester Women's Relief Corps of which she was president in the early 1930's.
Mary died in Rochester on the 2nd February 1955 and her ashes buried in Mount Hope Cemetery on the 5th February.
The Rochester Democrat & Chronicle of Thursday, February 3, 1955 stated;
SAUNDERS; Mary E. Saunders, aged 97 years, of 371 Troup St., Wednesday, February 2, 1955. She is survived by one nephew, -- Seeley Abbs. Deceased was a life member of the Corinthian Chapter, Order of the Eastern Star.
Friends may call at C.F.Scheuerman Sons Funeral Home. 712 Main St. W. (Eastern Star ----) Thursday evening at 8 o'clock. Burial at the convenience of the family.
<![if !supportEmptyParas]> <![endif]>