They had four children all baptized in St. Breock;-
Alice Saunders - baptized 11th October 1695
Debora Saunders - baptized 20th November 1701
Mary Saunders - baptized 1st June 1702
Charles Saunders - baptized 3rd October 1703
~~~~~~~~~~
In documents that have come to light John Saunders is variously described as a 'Chandler' or a 'Yeoman'. In a lease dated the 27th September 1709 covering 'messuage land tenements herediments with the appurtanences sett lyeing and being in the village called Tregunnow within the said parish of St. Breock being two farthings of land which contain 13 acres or thereabouts formerly in the occupation of one Jarkett May, widow' he is described as a Chandler of St. Breock. This particular lease from Antony Nicholl to John Saunders was for one year.
There is no indication of the commodity that he dealt in but Tregunnow/Tregunna is very close to the banks of the Camel estuary so it is just possible that he might have been a 'Ship's Chandler'.
~~~~~~~~~~
There is a very interesting entry in the 1710 Poll Book for the Cornwall County Election. It shows that John Saunders voted for both George Granville (Tory) and Hugh Boscawen (Whig) so he cleverly backed both sides!.
~~~~~~~~~~

In the Cornwall County Record Office in Truro there is a 99 year, or three lives, lease dated the 25th March 1722 at £145 with a yearly rent of 13s 6d and Heriot (an early form of estate duty) of £3 or best beast. The parties involved were William Beauchamp of Trevince, Gwennap, Gent and John Saunders, of St. Breock, Yeoman together with his children Charles, Alice and Mary. The land was 'closes or fields called Homer Hills, Higher Hills, the Furze Close, the Little Meadow and the Orchard all in one field called the Praze with house, gardens and little meadow adjacent in Bodellick in St. Breock'
The lease states that this land was formerly in the possession of Joan Watts then John Blake. Trees of oak, ash, elm and minerals etc reserved. The leasees had to perform one harvest journey (one day's work in harvest) or to pay 6d in lieu of this.
Also the Saunders family to pay to William Beauchamp one capon 'Att Christide' or 12d in lieu at his choice; keep premises in repair and use dung and straw on the premises.
Leasor to enter premises if rent etc not paid for a year or if John Saunders leased premises to prejudice of leasor or did anything else to injure the leasor's title'.
The lease is endorsed 'Saunders Lease of Tenement yielded up 1st November 1791. Ch. Saunders the leasee died abt Ladiday (25th March) last. B.B. £30 paid'.
Charles Saunders actually died during the first few days of January 1791 and was buried in St. Breock on the 8th January.
~~~~~~~~~~
John Saunders appears to have had various dealings with property in Tregunnow/Tregunna. There is a document dated the 30th September 1743 showing a 'bargain and sale made this day between John Saunders of the Parish of St. Breock next Wadebridge in the County of Cornwall Yeoman of the one part and John Brabin of the Parish of Endellion in the said county Yeoman. It covers the sale to John Brabin of 'houses lands feedings pastures commoditys woods underwood timber now growing or to grow living or dead orchards mowhay barns gardens marshes privileges ways water watercourses easements privileges........ in the village and fields of Tregunow.......... for that full consideration sum of £300 of lawful British Money'
This document was witnessed by Jane Trible, John Buscomb, William Pedler and John Blake.
The document bears an endorsement on the same date which shows 'Then received of John Brabin £12. 18. 0d in part of the consideration money within mentioned as writing my hands the day and year above.' and signed by John Saunders.
~~~~~~~~~~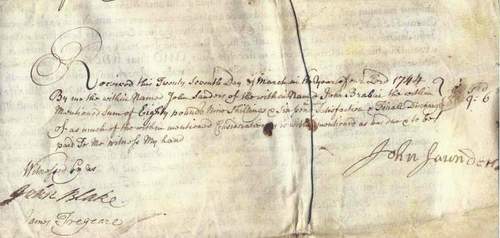 An endorsement on an indenture dated 27th March 1744
A second endorsement states; 'Received this twenty seventh day of March in the year of our Lord 1744 by me the within named John Saunders of the within named John Brabin the within mentioned sum of Eighty Pounds nine shillings and six pence in full satisfaction and final discharge of as much of the within mentioned consideration as is within mentioned as was due to be paid to me witness my hand'.


Witness by us

John Saunders

John Blake

James Tregeare

Another endorsement dated 27th March 1744 states 'Quiet and peaceful possession of ...given of John Brabin of all ... which was my lands and heriditaments in Tregunnow within the Parish of St. Breock to be holden of the said John Brabin his heirs and assigns for ever as witness my hand the day and year above '

This was witnessed by John Blake and James Tregoare. It is quite possible that this John Blake could have been the one who was married to John Saunders daughter, Mary.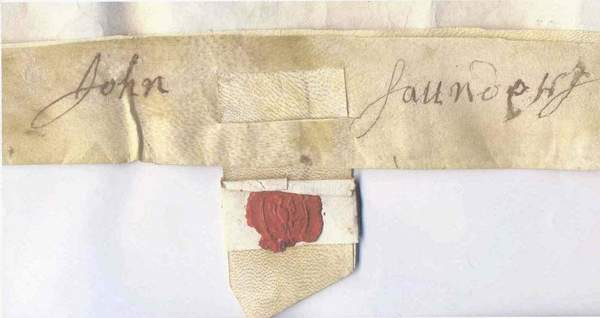 John Saunders signature
to indenture dated 27th March 1744

~~~~~~~~~~

John Saunders

died in March 1745 and was buried in St. Breock on the 13th March.

Records show that his will was proved in Exeter in 1753 but, unfortunately, together with many thousands of wills stored in Exeter, it was destroyed in the bombing of that city during the Second World War.

As far as can be established his wife, Mary, died in November 1736 and was buried in St. Breock on the 16th November of that year.

Note: The documents mentioned relating to Tregunnow/Tregunna are in the hands of Malcolm McCarthy of Padstow who very kindly passed all the details to me together with scans of the endorsement and John Saunders' signature shown above.